When looking for the best water bottle, you must get all the practical features you want, along with no compromises on aesthetics. You may find several options in the world of stainless steel water bottles, but Hydro Cell is the best brand you can get your hands on, and here is how.
9 Reasons Why Hydro Cell is the Best Water Bottle Brand
The following are the top 9 reasons Hydro Cell is the best brand to get your stainless steel water bottle.
1. 
Hydro Cell bottles come with the highest quality materials
Going with Hydro Cell bottles gives you the highest quality guarantee. These bottles are made with the best grade 18/8 stainless steel selected after generation of composition testing. This steel grade offers the best experience against decomposition and oxidation.
So, with the reliability of your bottle lasting long without getting any issues as you get with plastic or glass bottles, you may enjoy peace of mind with a perfect experience. The best part is that these bottles free you from plastics of all types, as these bottles are purely made of stainless steel.
2. 
ThermoCell technology revolutionizes how you use your bottles
Water bottles are not only about storing your water. Today, in this busy life routine, you must get a thermally insulated bottle that maintains the water temperature inside the bottle. One of the many reasons Hydro Cell bottles are the best is their ThermoCell technology that takes vacuum insulation to the next level.
These bottles are the highest performing in the market, ensuring that liquids put inside the bottle will stay cold or hot for a long time without reaching room temperature. It is because these bottles are designed to prevent heat loss through radiation, conduction, and convection.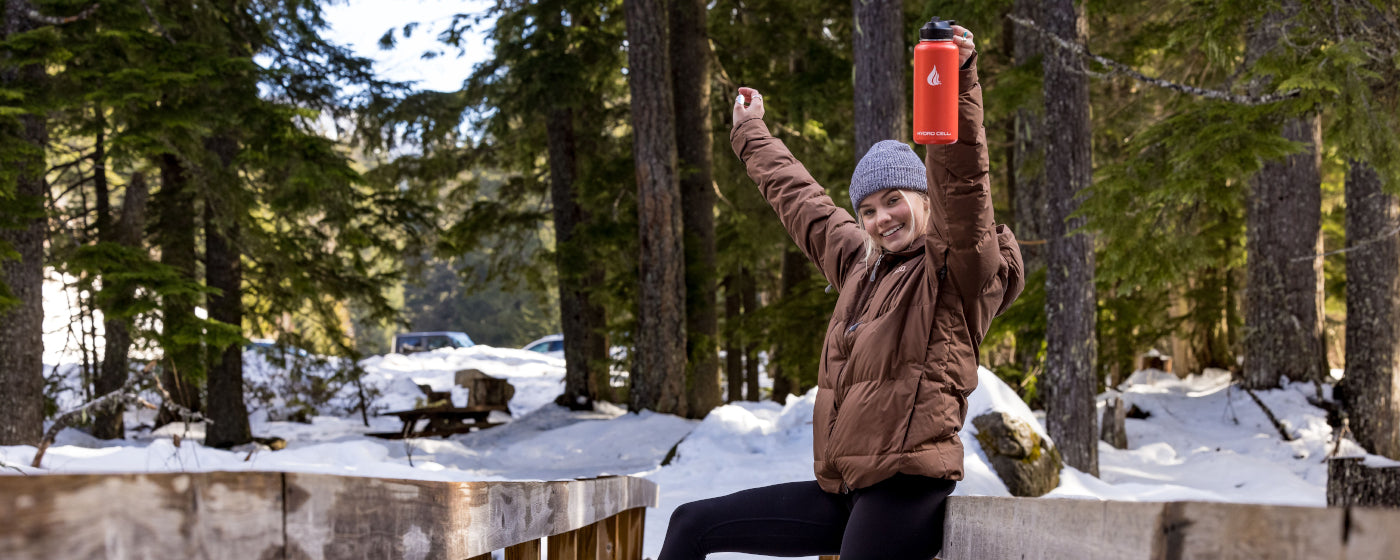 3. 
Highest quality guarantee in every aspect
The Hydro Cell bottles come with the highest quality guarantee as these bottles have gone through several iterations and innovations over different generations. The manufacturing process is carefully designed to ensure that the bottle meets every technical requirement. Moreover, Hydro Cell bottles passes its bottles through extensive scientific testing to ensure product excellency and efficiency regarding the features specified.
4. 
Ecofriendly bottles to keep you and the planet safe
The stainless steel Hydro Cell bottles are good for the environment. First, these bottles remove the usage of single-use plastic bottles, which are one of the biggest contributors to global pollution. Secondly, stainless steel is a sustainable material that can be easily recycled.
Additionally, these bottles are BPA-free, a harmful substance for you and the environment because of harmful microplastics. So, using this safer bottle and using one for a long time instead of multiple disposable ones daily will help keep the planet safe. On top of everything, it helps save money.
5. 
Durability from the inside and outside
Hydro Cell bottles focus on keeping the bottle durable from the inside and the outside. These bottles are made with stainless steel material on the inside to keep oxidation away. At the same time. There is durable powder coating on the outside that comes with the following benefits:
The bottle becomes resistant to micro scratches

The powder-coated surface enhances the grip

You can feel a firm grip even when the bottle is wet or your hands are sweaty
Thus, this coating keeps your bottle good for a long time.
6. 
A perfect range available to meet everyone's requirements
You are not restricted to a few options when going for Hydro Cell bottles. These are not only available in several colors, but there are practical variations available, including:
Standard mouth bottles

Different capacity sizes in every category
It means you can find a bottle that meets all your daily life hydration requirements with the right aesthetic. The best part is that these bottles are easy to carry with you all day. So, whether in the office, gym, or home, these bottles always stay with you.
7. 
The bottles here pair up with several useful accessories
Hydro Cell is the best water bottle brand as it offers a complete experience. It is not only about the bottles you get here, but Hydro Cell also provides all the accessories you will need with its bottles. These accessories offer protection, carrying ease, storing ease, and, most importantly, usage ease, like with the coffee cap.
You must find the right accessory according to your needs, and color options are also available to maintain the aesthetic. With the right accessories, one bottle can fulfill multiple functionalities simultaneously.
8. 
No leakages or sweating inside your bag
Water bottles are known to leak or sweat due to condensation. It is common with most bottles regardless of their material. Putting those bottles on your table makes the table wet, and keeping them in the bag ruins everything else in the bag. However, you don't need to worry about such issues with the Hydro Cell bottles as these come with a leak-proof cap.
Along with that, the vacuum insulation on these bottles ensures no sweating, no matter how cold a drink you put inside it. The best part is that the drinks stay cold and hot as you put them inside the bottle.
9. 
Trending essential bottles for everyone
Lastly, Hydro Cell offers essential bottles for everyone with trendy looks and all the features people need. Everyone's requirements from a bottle are met with these bottles without a second thought. The reason why these bottles make a perfect choice for everyone makes Hydro Cell the best water bottle brand, as most other bottles available on the market lack these features.
Final Verdict
With all the features and qualities you get in a Hydro Cell water bottle, you would miss nothing. So, with no compromises, Hydro Cell is the best water bottle brand you can shop from. With tons of options in water bottles and accessories to meet your indoor and outdoor bottle requirements, there is no other brand you need to look out for.