Anniversary gifts must be special ones that hold high value for your partner. Over the year, people keep giving the same gifts where women go for gadgets or wardrobe items while men usually gift jewelry or clothes. After some time, these gifts become boring and add no value to the relationship. This time you must go for something unique that will bring much more value to your partner's life.
Here are our top picks for the anniversary gifts that your partner will love.
1. 
Wide Mouth 24oz Two Tone Water Bottle
The wide-mouth 2-tone stainless steel water bottle is exceptional in its features and looks. It brings a complete package for everyone with its wide-mouth design and ample capacity variations. The wide-mouth design allows for keeping different drinks and creating some in them.
For example, athletes and gym freaks must make their protein shakes on the go, and this wide-mouth bottle allows them to put scoops of protein powder in the bottle easily. The bottle is packed with features, including the following:
It is made with thermo lock technology to maintain the temperature of drinks present inside

The bottle is free from toxic materials like BPA or plastic by-products, making it comply with food-grade standards.

You don't need to worry about it sweating because of the double-wall design.

It is made with durable stainless steel making it an eco-friendly and long-lasting water bottle.

It comes with powder coating for a non-slip grip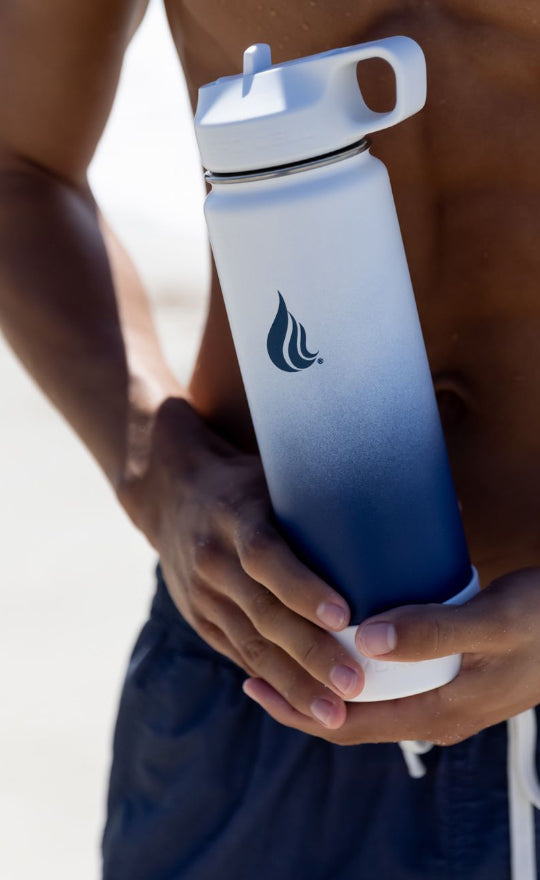 The colored wide-mouth sports straw cap also brings value in 2 ways. It matches the bottle's aesthetic and brings the practicality you need. There are 14 different color variations, so you can mix and match colors. Being a sports cap ensures the user will have an effortless experience. Whenever they need to sip, they only need to flip the straw.
There will be no need to stop the exercise sessions or bicycling just to open the bottle cap and take a sip when the straw enables you to do all that on the go. This cap also comes with a loop on the side for easier handling and holding the bottle. The best part is that the straw is wide enough to allow any drinks to flow, and it is food-grade compliant while being washable and reusable.
Is your partner a coffee lover? You get this accessory for them, and they will never complain about their coffee getting cold again. This cap is specially designed to let people sip coffee on the go with the small opening on one side while keeping the whole bottle waterproof and sealed. It has 15 different color variations for the wide-mouth water bottle and a loop to hang the bottle upright.
When your partner does not need a straw or a coffee cap on their bottle, this stainless steel cap will be the perfect option to keep the bottle shut. It can also make a great accessory while traveling. It has an attachment arm, so the cap is always recovered when the bottle is open.
Want to make things even better? Get all of these and give your partner a combo of a complete product set. The stainless steel water bottle with all these accessories will take care of most of their daily needs.
How to select the best anniversary gifts for your partner?
You can go for anything you like if you want to avoid adding value to their life with your gift. However, if you want a valuable gift that they will always remember, you need to be thoughtful about the following points.
Look for the stuff that brings value to their day-to-day life
See the things they need and the items that will bring more value. A jewelry item or the latest gadget may show your affection towards them, but it will only keep its charm for a few moments. On the other hand, something like a stainless steel water bottle will promote their health and benefit their routine. So, you must go for such stuff.
Go for the gift that is safe for them always
A gift must always be safe for your partner to use. A good gift never welcomes additional issues with it, and that's the case with the stainless steel water bottle. No matter what you put in this bottle, it will never cause any toxicity issues. It is food-grade compliant, so all your hot and cold drinks will stay safe in the bottle. The best part is that there will be no impact on the flavor of the drink because of these bottles.
Please select a gift with all the accessories to ease their life
A gift that can work out with different accessories automatically increases its value. The stainless steel water bottle that you can get here is compatible with so many accessories, including:
Bottle boot

Sports cap

Simple cap

Paracord handle and hook
Each of these brings additional value for the user, and going for such an anniversary gift will be a better choice in many cases.
What makes a high-quality water bottle the best anniversary gift?
A high-quality water bottle is the one that always stays alongside you, whether you are planning to stay hydrated, take your coffee along with you, or make a protein shake on the go for your next exercise session. All these qualities also make this good-quality water bottle the best anniversary gift for your partner. The best part is that all these valuable qualities are available in the stainless steel water bottle you get here.
Conclusion
An anniversary gift is a special one, and it holds much more important than any other gift. So, get a stainless steel water bottle instead of gifting your partner something that will stay in the cupboard for a long time. As they keep using this bottle, their love for it will keep increasing as it brings features and benefits like no other bottle.