A water bottle is extremely important to always be in your bag in order to help you stay hydrated. While it is named a water bottle, it can help you carry much more than just water. However, for the best experience, you cannot just go with any random water bottle. You need to consider a lot when buying your stainless steel water bottle for extreme weather, and here we will be discussing that.
Tip to buy a reusable water bottle to stay hydrated in extreme weather
Here is everything you need to consider about water bottles before buying one.
1. 
Always start with the top of the bottle.
The first thing you must always consider about the bottle for extreme weather is its top. The mouth of the bottle can enhance your experience, and similarly, it can worsen it. Thus, you must select a water bottle whose top matches your usage requirements.
For example, if you plan to make a smoothie or shake in your water bottle, then a 24oz sports water bottle will be your perfect choice. The wide mouth will easily let you put in the contents. Similarly, if you are planning to use that bottle only for water, then you can go with a regular mouth.
2. 
Know which size will be perfect for you
When you are browsing for water bottles, you will find a lot of options. For example, there could be stainless steel water bottles in the following sizes:
14oz

18oz

24oz

40oz, etc.
Remember that you cannot grab the smallest, middle, or the largest one. So, knowing the requirements is important. When looking for the size requirement, you can consider how far you will be carrying your bottle and how much water you need to drink on average in extreme weather. Thus, selecting water bottles will become extremely easy for you.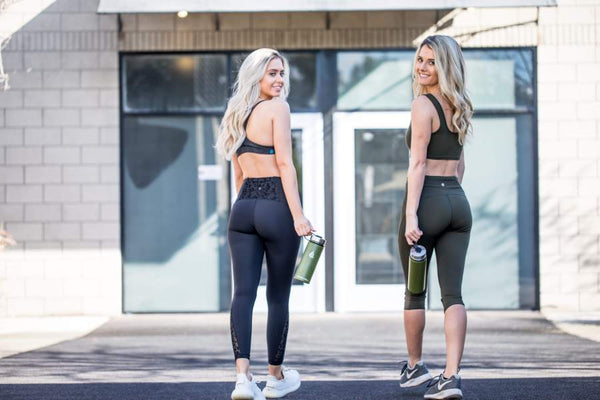 3. 
Ease of cleaning matters as well
The next thing that you need to consider is the ease of cleaning. Getting a dishwasher-safe bottle will be your best option, but only when you have a dishwasher. Otherwise, you may need to get a bottle that you can easily clean. Tighter mouths and longer bottles are generally harder to clean.
4. 
Look for the temperature control features
When shopping for water bottles, you must also monitor the temperature control features. A bottle that cannot maintain the water temperature inside it may not be a feasible choice for you. Having such a bottle is very hard in extreme weather conditions.
These days most bottles come with vacuum insulation technology that helps maintain the temperature of the internal contents of your bottle. So, buying a bottle that comes with temperature control features can be beneficial for you.
5. 
Looks of the bottle matter as well
The water bottles you buy are not all about the technicalities and features. You need to take a look at their physical appearance as well. That is why carrying regular home usage bottles outside to your job, or school is not the right thing to do.
Your bottle must be attractive, and its looks must be futuristic. These water bottles cannot be boring at all. For example, the black/white two-tone wide mouth 18oz bottle is perfect in terms of looks and size.
6. 
Check where you will carry that bottle along
Even extreme weather cannot stop you from going outside. Some people like to do unique activities like cycling on the outdoor trails or hiking. If you are one of them, all the water bottles you choose must be good enough to accompany you.
An easy-carry handle like the paracord handle is a must for your bottle. Similarly, if you are cycling, your bottle must easily fit in the bottle holder attachment of your cycle. Getting a bottle with a carabiner hook can also be beneficial as you can clip that bottle anywhere.
7. 
Do you need any additional accessories along with that bottle?
When you shop for stainless steel water bottles, you can get a lot of accessories for those bottles like:
Sports cap

Handles

Clips

Boot, etc.
However, getting it matters on the availability. So, if you plan to get a bottle and buy a few of those accessories with that bottle, then you must consider their availability first. It is because many universal accessories do not work with every bottle. Buying stainless steel water bottles with available accessories will bring the best value for your money.
8. 
Buy your bottle according to the things you will carry in it
As the stainless steel water bottles come with a standard mouth and wide mouth, you get different options to put stuff in your bottle. For the standard mouth putting liquids in it is the easy option.
However, for the wide mouth, you can put the shakes, smoothies, fruits, and vegetables to make detox water and much more. Additionally, different things in your bottle can react with its material. So, always check for that bottle to be safe for the stuff you are planning to carry.
9. 
A bottle must be durable and lightweight at the same time
The last thing to consider is durability and being lightweight. Only the stainless steel water bottles are perfect in this case. It is because the stainless steel water bottles usually last up to 10 years and are also lightweight.
You can also make stainless steel water bottles last longer than usual by following the right tips and tricks. So, buying stainless steel water bottles can be better than glass or plastic bottles.
Conclusion
There are a lot of water bottles that you can buy for extreme weather. There are compact and small ones, and there are bulky ones with a high volume. Similarly, different bottles have different features and benefits. However, instead of buying any random bottle, you must list your requirements and then buy your water bottle. Considering all of the things that we were discussing here will help find the best one out of all the water bottles.