Reusable and recyclable water bottles are trending, especially among people who like to work out. They must keep themselves hydrated to ensure they can get the best results after their exercise session. However, selecting the right product can be confusing and time-consuming because there are various products available in the industry. Here are a few tricks that will surely help in the selection process.
What factors should one look out for before buying water bottles for a workout?
There are many things that a person can consider before purchasing a water bottle for a workout or any other need, but many people fail to differentiate between these factors.
Therefore, some of the highlighted and basic factors one should consider before buying water bottles for workouts are mentioned below.
Check the size and holding capacity of the water bottle
The first thing that is very important to consider before buying a water bottle is its size. How big your water bottle is? It's important because you want to consume a good amount of water while working out.
Or you can choose a water bottle according to your drinking habits that can match the bottle's size and capacity. Hydro Cell Wide Mouth water bottle is the best option. It comes in various sizes, so you can pick the one that perfectly meets your water requirement.
The bottle should be leakproof
The next factor that one should look for is to ensure it is leakproof. That means no matter any position. You keep the water bottle. It should not leak or spill. You can check this by reading the product description at the back and see if it states or describes the bottle as leakproof.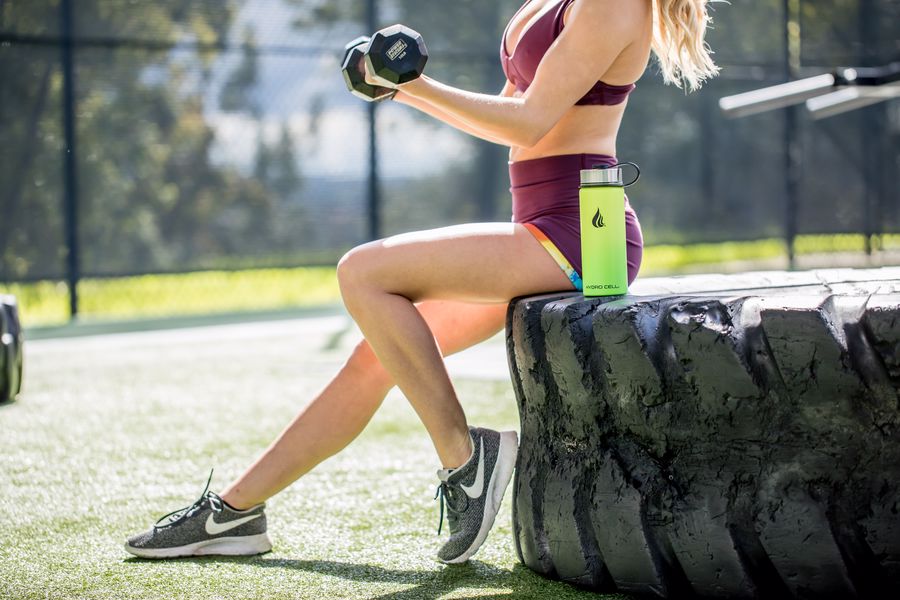 Look out for the materials it is made from
Another important factor you should be highly certain of is the material the water bottle is made from. There are many materials that you can choose from. That range from plastics to glass, two steals, and different kinds of metals.
However, the experts recommend opting for stainless steel water bottles. Now people wonder why to opt for stainless steel water bottles. Well, there is no doubt that the stainless steel water bottles are very durable and do not wear off quite easily. they are ideal for long-term use, especially when working out regularly.
The stainless steel water bottles also keep your water temperature intact, which means if it is warm, it will stay warm, and if it is cold, it will stay cold. It does not allow the entrance of harmful ultraviolet rays that eventually have no release of any chemicals such as BPA.
 What is the shape of the water bottle?
Another thing worth considering while purchasing a bottle of drinking water is what shape you want your bottle to be. If you are one of those who run a lot, you should buy a bottle with curves.
It should also have a handle that you can carry around. If you carry a bag with you during the day, slimline water bottles are also good for such cases because they are quite easy to carry around in your bag for a prolonged time.
Check the durability of the water bottles
When you are spending money on anything, the first thought that often comes into your mind is how long will the particular item last. Likewise, the same case is while you buy water bottles. It would help if you looked out for those water bottles that have a highly durable rate which means they do not wear off quite easily.
A good water bottle means that no matter how much pressure or time they fall, it will not wear off or cause dents. Hence, you can look for those water bottles with a warranty of six months or at least up to a year. 
The look and design of the water bottle  
If you like to have everything per matching and contrast, you can look for those water bottles with a sleek minimum and cute art design over them. Hydro Cell Standard Mouth water bottle is great. It comes in single and double-tone shades. Moreover, you can get a standard or straw cap which makes drinking water easily when you are tired after working out.
Extra Features
Many amazing water bottles on the market have additional capabilities and functions worth knowing. There are several water bottles with fruit pockets in them or other water bottles with crystals embedded inside them. Such water bottles might be somewhat expensive compared to regular water bottles, but they are worth it.
Check how safe the water bottles are
Safety is the best and most important factor one should consider before buying anything, even if it's a water bottle.
Water bottles might also break and shatter around if they fall. So that is why it is recommended to buy stainless steel water bottles instead of gas or plastic ones that can break and hurt you or the people around you.
Best stainless steel water bottle
Stainless steel water bottles by Hydro Cell are a great option because they have all the features you need in a water bottle. It has high-quality insulation that will maintain the temperature of hot or cold drinks that you keep in your bottles.
Moreover, they are available in a variety of shades and colors that will allow you to maintain your special style. You can even get a straw cap with the bottle. These bottles are dishwasher safe, which makes them easy to clean and reuse as many times as you want.
Conclusion
Purchasing a water bottle may not seem to require a lot of time or your thoughts. But these are initial items that one should think about every day and treat with a certain importance. Hence, if you buy a water bottle online, do your proper research. Or if you are buying in stores, then consider the mentioned factors above.