Due to health issues associated with plastic and single-use bottles, most people prefer to invest in reusable water bottles. Recyclable and reusable water bottles make it much easier to stay hydrated and reduce plastic pollution. Moreover, they are available in various shapes, patterns, and colors, allowing you to create your style statement.
However, the selection of safe materials for water bottles can be confusing. It would be best to ensure that the bottle you drink is safe for your health and ecosystem. Here we have everything you should know about the benefits of using reusable sports bottles and the materials you prefer while buying one.
Reasons to use reusable water bottles
Every day more than 60 million water bottles are thrown away. These plastic bottles lead to issues like polluting rivers, clogging landfills and littering parks. It is an environmental concern that you can use plastic bottles only once, and they will take hundreds of years to decompose. Thus, to find against climate change and protect our planet, we should start using reusable water bottles. Here are some interesting reasons why using reusable water bottles will be the best.
You will not have to replace them often because they will last for years.
Reusable bottles are easy to fill at home and can be utilized several times.
They come with built-in water filtration, durability and temperature control features that can keep your water clean.
You may find their experience, but reusable water bottles can help you save a lot of money in the long run.
They are environmental friendly because once you do not want to reuse them you can easily recycle them into any other product you need.
The best and safest water bottle materials
Here we have a list of safe water bottle materials for you and the environment.
1- Glass
It is considered the safest and purest water bottle material for drinking water. However, the only drawback is that it has a huge price tag. Moreover, they are unsafe if you have children around and have limited styling capabilities. Glass water bottles are great for home use or to be kept in the refrigerator, but they are not portable.
To add an extra layer of protection, glass bottles come with a silicone sleeve or covering. The biggest benefit of a glass water bottle is that you do not have to worry about BPA or other harmful chemicals.
Pros
Get a natural taste of water.
Great for all types of liquids.
High value.
Dishwasher safe.
Cons
Expensive and highly breakable.
Large size bottles can be heavy when filled with water.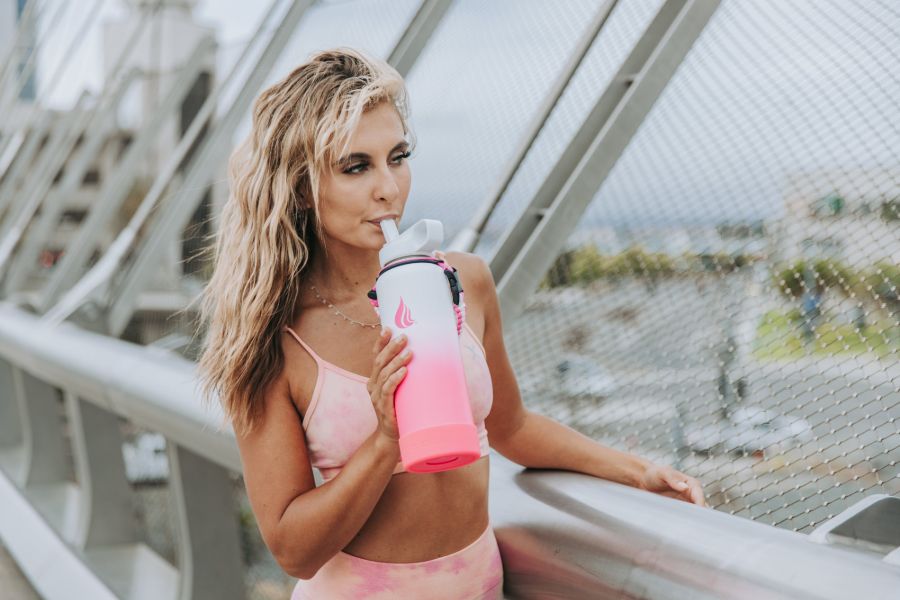 2- Stainless steel
The stainless steel water bottles are a great option if you want a portable, stylish, reusable and affordable option. Hydro Cell WIDE Mouth Two-Tone is manufactured from food-grade stainless steel, making them safe to use. The stainless steel is non-reactive, so the material will not have to be lined as it will not leach.
Special care is taken to assure that no such chemicals are used while manufacturing or color coating the bottles, which can cause allergic reactions. The stainless steel water bottles have the highest quality, making them a great choice.
Pros
No harsh chemicals.

A variety of shades and styles are available

Maintain temperature.
Cons
3- Aluminum
It is a great option, but aluminum is highly reactive with certain liquids, due to which bottles are commonly lined with epoxy, resin, enamel or polymer. Food grade and BPA-free material and liners are used to manufacture aluminum water bottles. It is a popular material for water bottles because of its low cost.
Pros
An affordable alternative for glass or stainless steel.
Cons
Dent more easily than stainless steel.

The lining may chip off with time.

Slight metallic taste in the water.
4- Copper
Copper water bottles have been used for hundreds of years. The Ayurveda practitioners believe that drinking and storing water in copper bottles can maintain the body's balance, helps in digestion, stimulate the brain and slow aging. However, there is no confirmation of this knowledge available in modern science. However, copper is still a safe material because it can reduce the production of dangerous bacteria in water.
Pros
Beautiful designs

Durable and long-lasting
Cons
Copper seeps into the water, and a high concentration can lead to nausea.

Bottles change color with time.

Slight metallic taste.

May dent.

Only used for water and not for other liquids.
5- BPA free plastic
Regarding reusable and safe water bottle materials, plastic is not an option, but BPA-free products can be considered. It is an inexpensive and widely used material. Various variations of plastic are available like LDPE, PETE, polypropylene, HDPE and Tritan copolyester.
These plastic variations are recyclable, but it depends on the recycling facility that gets the bottle. Therefore, you should not assume that BPA-free bottles can easily recycle. While buying BPA-free plastic bottles, ensure they have undergone proper testing and are marked as safe.
Pros
Available in a variety of colors

Lightweight
Cons
Hard to recycle as compared to other materials.

Not dishwasher safe.

A slight plastic taste may be present.
Drinking water from a safe and recyclable water bottle will give you peace of mind that your health and environment are safe. There are undoubtedly various products available, but stainless-steel water bottles are the best option. They are long-lasting, and you can carry a variety of liquids in them apart from water.
Final Remarks:
Hydro Cell has a huge variety of stainless-steel water bottles available in various shades and styles. You can have single-tone or two-tone water bottles. Moreover, there are variations available that come with or without straw. Hydro Cell Water Bottle With Straw is a great option because it is easy to carry. Various sizes are available, so you can pick the one that meets your demands.
Moreover, water bottles come with special insulation to assure that hot and cold liquids will maintain their temperature, and you can enjoy them anytime.